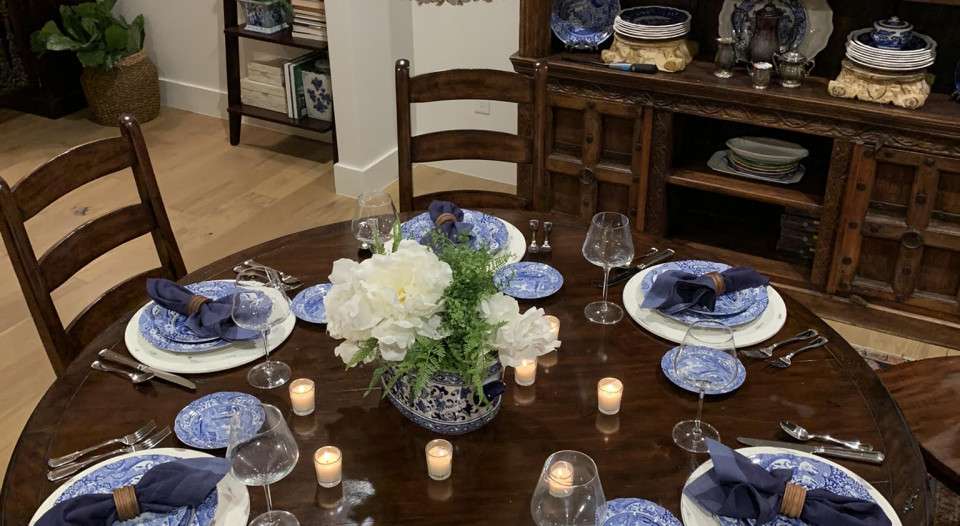 "I've learned that people will forget what you said, people will forget what you did, but people will never forget how you made them feel."

Maya Angelou
Isn't that a profound and truthful statement… I hope that when friends and I part ways after an evening together that if they've been entertained in my home by me, they will leave feeling filled up. I hope my friends always feel loved, blessed and important. To me, setting the table with beautiful linens, pretty dishes, delicious food and a fabulous wine is creating an experience and a memory for my guests. Over the years I have created countless table scapes for simple and elaborate gatherings alike. There are a few simple rules (or points) I follow when setting my table and maybe you will find some of these helpful as well.
Your table scape can be as elaborate or as simple as you desire but needs to coincide with the decor and feel of your home. For example if you have lots of color and pattern in your home, you may choose to do very subtle, muted colors on the table but opt for pops of color in your table scape so that the table doesn't get lost in all the color and pattern surrounding it. You could use a pop of color just with your napkins to bring out another color in the room. You could use that same color in the centerpiece as well. I first consider the occasion which dictates the design. As soon as I have a color scheme in mind, I look at the all the linens I have that could be coordinated together and used for the particular occasion. Personally, I am not afraid of mixing prints and patterns. My thought process is that if the colors match then different patterns can be intermingled. Mixing patterns is bold, daring and communicates confidence. And if you are the hostess, you should feel confident in every aspect of what is on your table from food to fork to foliage.


As soon as a theme is chosen, I decide what my centerpiece will be as this will set the tone for the entire table. Once I have chosen whether big or small what the centerpiece will be, I begin to build around that focal point.


Centerpieces do not have to be one bouquet of flowers in the middle of the table. A centerpiece could be a table runner that goes all the way down the middle of the table and features a "garland" of some kind that extends the length of the table. Once the initial centerpiece has been laid down, you can begin to build upon that single piece. What's most important to remember when creating a centerpiece is to be sure you leave space for dishes, water and wine glasses, silverware, bread baskets or anything else that might be considered a necessity at the dinner table. You don't want your table too cluttered.


Centerpieces can be as easy as prearranged flowers, greenery and burlap or even an elaborate flower arrangement. I often times work in odd numbers. Three candles or five small vases. This gives you the ability to spread items out in the center of the table.


More times than not, my table has beautiful flowers or greenery such as fern or ivy that I clipped from my own yard! Bringing the outside in, creates an inviting and casual atmosphere. As a child, my mother always sent me outside to clip foliage and branches from trees so that she could use them on her holiday table. Then she would nestle in between the branches and foliage, simple beaded garland to add sparkle, pine cones and gold Christmas balls. Then she would add just a few tapered candles to the table which stood tall and formal but were situated in a way that no one's view of others was obstructed. You want to make sure that all your guests can see each other!


Your table ignites feelings! This means your table can be subtle and simple or elaborate and elegant. When I create a table scape for an evening dinner, I always include lots of votive candles, which are small and more informal. There's just something warm and inviting about the little flame of a flickering candle… It sets a magical and warm tone for great conversation and lots of laughter! But, candles can also create an intimate and more romantic atmosphere. In contrast to the votive, a tall tapered candle, communicates a more formal and eloquent feel. See the difference?


I'm a gift giver! Often times if I am hosting a special event, I will have a tiny gift at each seat- Set on the plate. This could be something as simple as a small candle that I have wrapped up in clear cellophane with a little satin ribbon or a tiny galvanized bucket filled with candies and a tiny card tied to the side of the bucket which reflects the guests name. Doing this not only shows the guest they have a small gift waiting for them but also doubles as his or her seat assignment for the event. In the past, I have even made tiny bouquets of flowers and tied them with ribbon to leave on top of the napkin with each girls name on a name card at the top of her plate. Small gifts make your guests feel important and very special.


If you are hosting an event that is extremely informal, I've got you! One of my favorite things is the paper plates made by Caspari. They always have a beautiful selection of dinner, luncheon and dessert plates that all coordinate with different patterns and colors. Caspari also has a wonderful collection of holiday and special occasion plates and napkins. Don't ever be afraid to use paper products. These days, you can splurge and pay a little more for pretty paper plates which affords you more time with your guests- because nobody is cleaning anything up. Each guest can walk over to a nearby trash container to discard their own trash!
So there you go… That's Tablescape 101. Easy, fun and pretty. Remember, it is your table and your event! Give yourself a peptalk, embrace the creative side of who you are and go for it!!