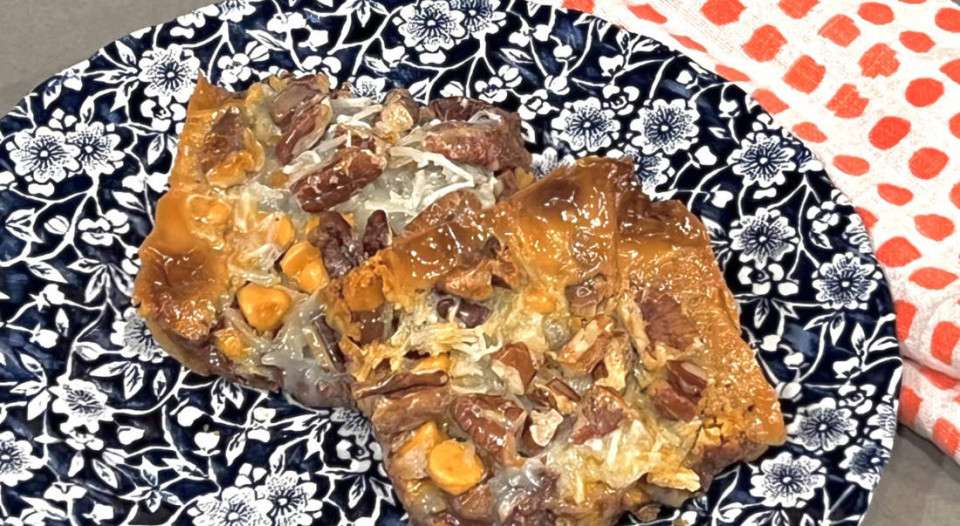 Ya'll, this holiday recipe is hands down, the BEST ever! This delicious holiday bar is a treat I have enjoyed my entire life! Southern Living Magazine describes these best: "gooey, slightly crunchy, and melt-in-your-mouth, chocolate-coconut heaven." And that, my friend, is a TRUE description! For a stronger caramel flavor, swap dulce de leche for sweetened condensed milk
Serving Size: 16 Bars
Total Prep Time: 1 hour, 40 minutes
Ingredients
Cooking spray
1 ½ cups (6 oz.) graham cracker crumbs
6 Tbsp. (3 oz.) unsalted butter, melted
¼ teaspoon kosher salt
½ cup (about 3 oz.) bittersweet chocolate chips
½ cup (about 3 oz.) butterscotch chips
⅔ cup (about 3 oz.) sweetened flaked coconut
¼ cup (about 1 oz.) chopped pecans
1 14-oz. can sweetened condensed milk (about 1 cup)
½ teaspoon flaky sea salt
Directions
Preheat oven to 350°F. Spray an 8-inch square baking pan with cooking spray, and line bottom and sides with parchment paper.
Using a fork, stir together crumbs, melted butter, and salt in a medium bowl until evenly combined, about 1 minute. Transfer mixture to prepared pan, and gently press to form a flat layer. Sprinkle chocolate chips and butterscotch chips over crust. Top with coconut and pecans, and drizzle sweetened condensed milk over top.
Bake in preheated oven until lightly browned around the edges and top, about 25 minutes. Cool completely in pan on a wire rack, about 1 hour. Sprinkle with sea salt and cut into 16 bars.
Fun Fact
When I die and go to Heaven I'd like this recipe distributed at my funeral AND I'd like someone to make a huge batch of the bars for everyone to enjoy! When people ask, "wow what is this? Please reply, "Hello Heaven Bars!" Because to me, this is what Heaven might taste like!