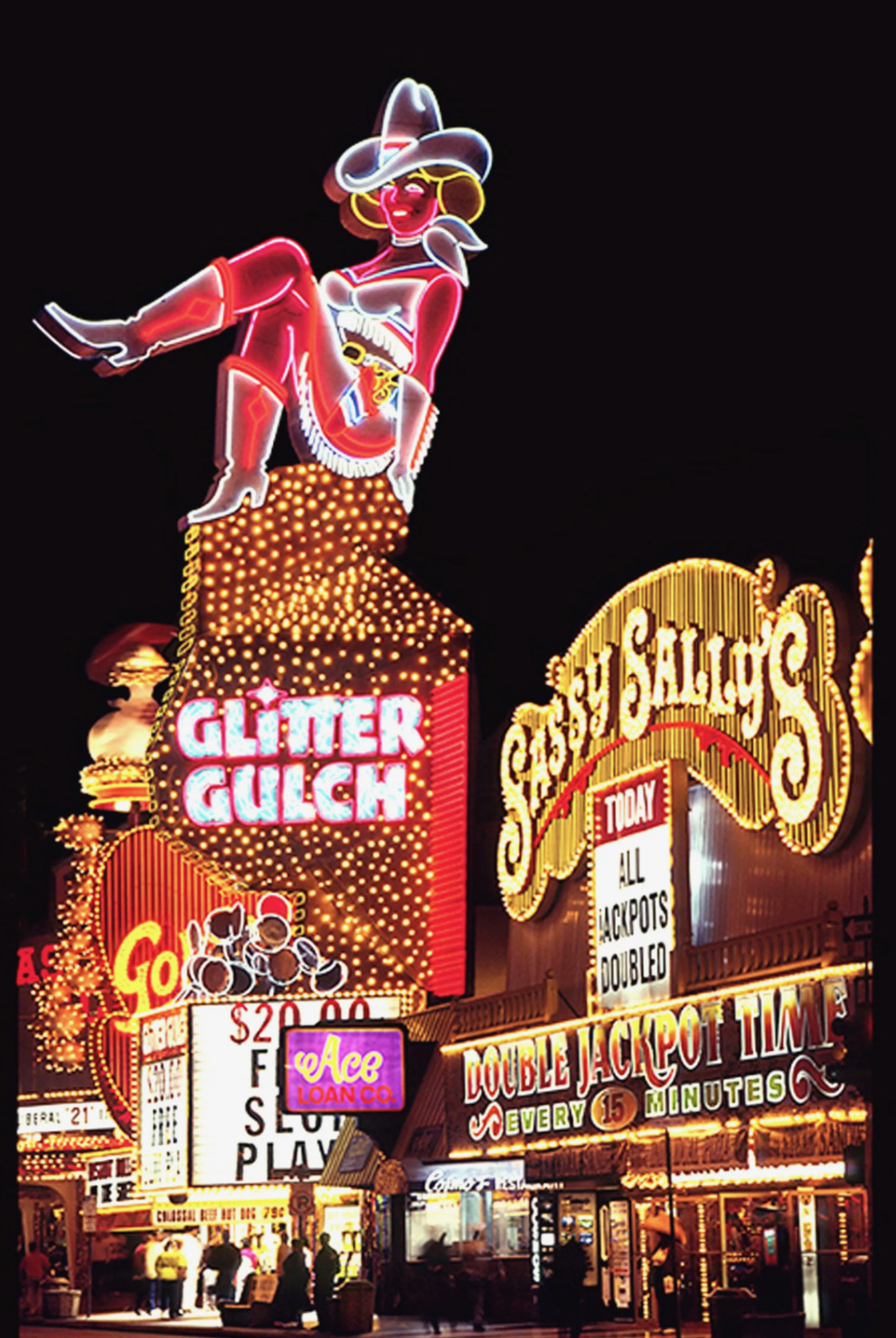 Many have been curious about the eye-catching addition to our little ranch, The Lucky Horseshoe. If you've driven by recently, you've undoubtedly noticed a striking neon sign perched atop our "Cowboy Casita." This neon sign boasts a soft neon glow in red, white, and blue, with our ranch name, "The Lucky Horseshoe Ranch." Nestled in the center of the sign is a golden neon horseshoe, which is a nod to our Texas roots and within the horseshoe, you'll find the adorable figure of a blonde cowgirl named "Vegas Vickie." She's outfitted in a white vest, fringe gauntlets and stylish cowgirl boots! Blinking every other second is her playful pistol shootin' up toward the heavens!
Now, you might be wondering, why the neon sign and is the Cowboy Casita a business? These are the questions we often hear and we're excited to share a bit about ourselves and our vision for The Lucky Horseshoe. We're passionate about all things ranch-related, with a side of vintage charm and a love for old, weathered, and rustic pieces. Antique markets are our playground and we rarely leave empty-handed. We're drawn to furniture with a story, items that have withstood the test of time, showing imperfections and layers of history. My husband Chance, is an enthusiastic collector, always on the hunt for unique vintage signs and he's occasionally restoring old neons. He has an eye for these treasures, making him the simplest yet most eclectic man I know.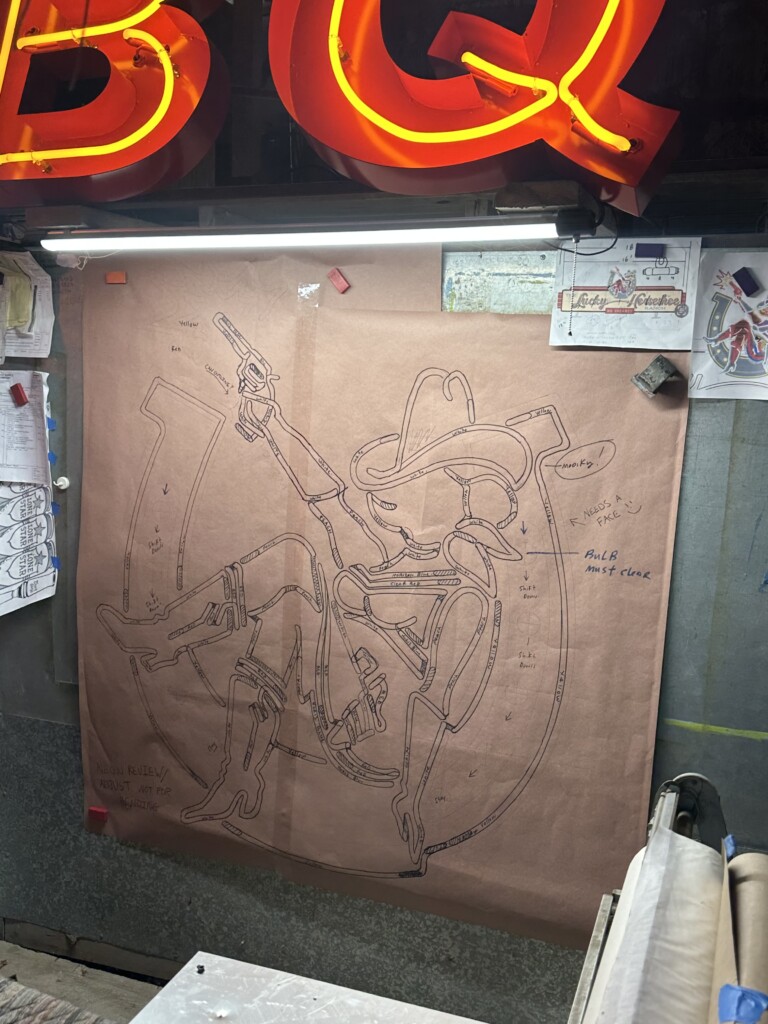 One day, Chance approached me with an idea: "What do you think about us commissioning Jay Gordon of Black Out Signs in San Marcos, Texas, to create a sign for us?" We had previously worked with Jay on another project and were very pleased with his craftsmanship. So, with questions about the sign's placement, design, and size, we embarked on a creative journey. What emerged was an impressive 18-foot-long, 7-foot-tall sign to grace the top of the Casita, bearing our ranch name and the iconic horseshoe. We also wanted to incorporate a cute retro cowgirl into the design. Chance presented various fonts, colors, and designs and when I saw "Vegas Vickie," I instantly knew she was the perfect fit.
If you're not familiar, Vegas Vickie was a legendary neon light that once adorned the Glitter Gulch Strip Club on Fremont Street in old Las Vegas. Over time, she faded, bulbs burned out and she lost some of her luster. Eventually, she was taken down, restored to her original glory with fresh paint and new lights. Afterward, she was given a new home at Circa Resort & Casino in Las Vegas, where she now brightly shines at the entrance of "Vegas Vickie's Cocktail Lounge." As a Christian, to me Vickie represents "transformation" and how God will go into even the darkest places to rescue just one soul. He then spends a season cleaning up "the one," administering a "spiritual bubble bath" as to wash away all the world's dirt, grime and ugliness. And like Vickie, God gives us a fresh start and a new home address. He pours His light into us causing us to shine brighter than ever. Vickie is a pretty accurate symbol of God's grace, don't ya think!? Our take on Vickie is a bit different from the world's but seeing her shine so bright in the darkness of the Texas Hill Country, fills my heart!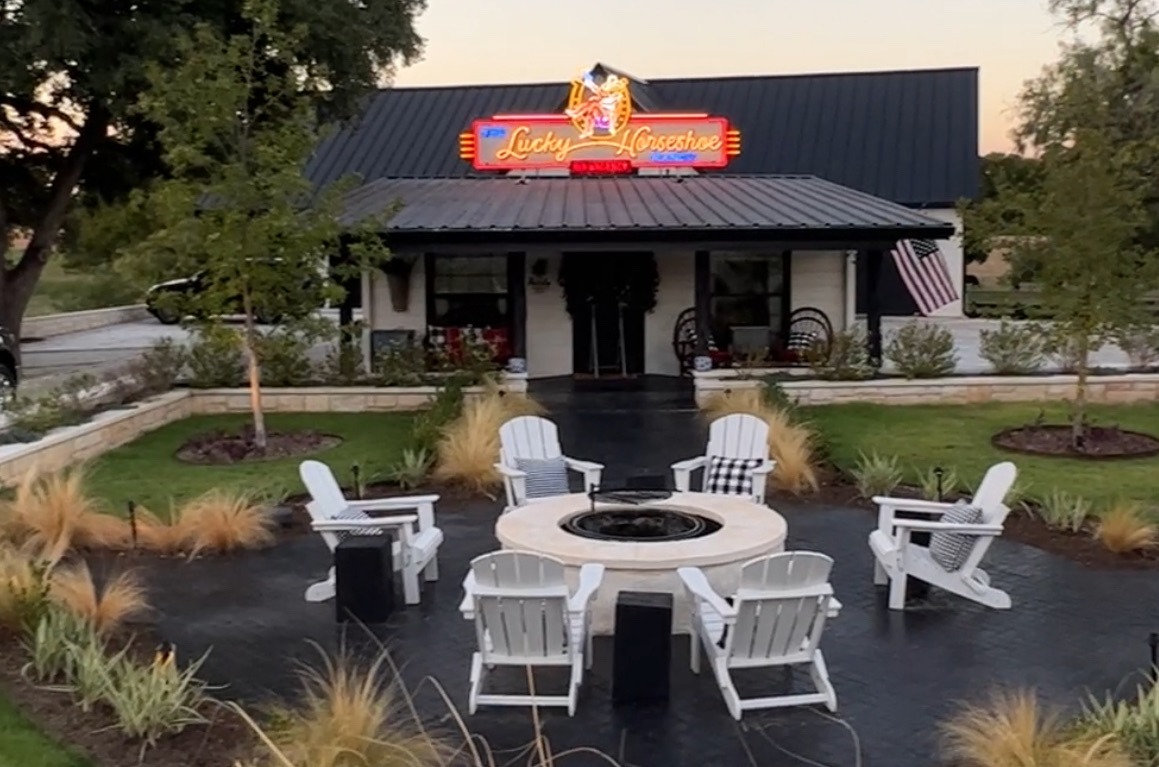 So next question, "What's the Cowboy Casita!?" We are super excited to share that In the spring, we'll be offering our 1950s retro-inspired "Cowboy Casita" for rental through AirB&B! This charming space will provide luxury accommodations with a small kitchen, a cozy living room and dining area. A separate bedroom accommodating up to four guests boasts beautiful finishes, luxurious linens and will offer all the comforts of home. Connected to the bedroom is a small bathroom with a spacious walk-in shower complete with the wonderful pampering products from Los Poblanos Lavender Farm in Albuquerque, New Mexico. A spacious front courtyard with a large limestone fire pit and comfortable Adirondack chairs is the perfect spot to create lasting memories with friends and family. Relaxing fireside, under the Texas stars and the warm glow of Vegas Vickie we're confident, will be a blessing to many! So, there you have it! Be sure to subscribe to our email updates so you don't miss out on the latest at The Lucky Horseshoe.
Happy Trails!