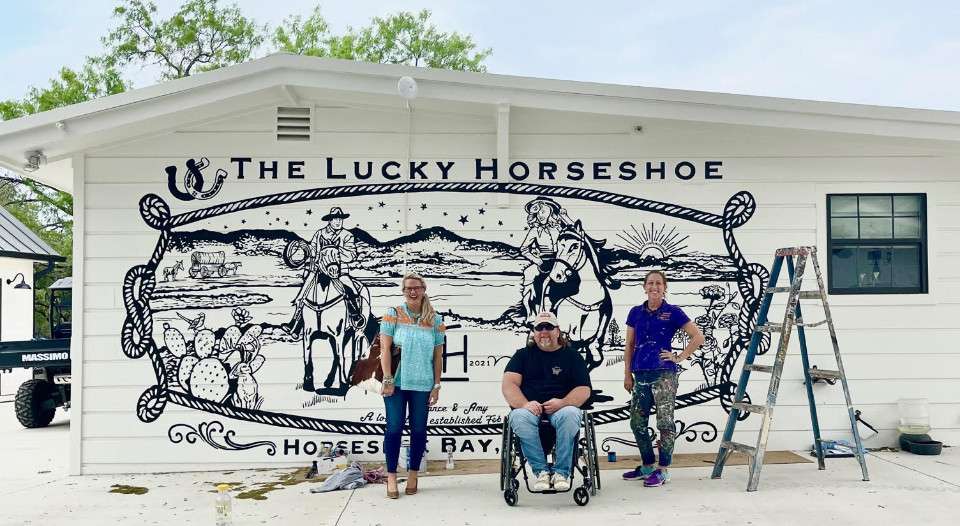 Several months ago my mother-in-law had mentioned to me that on Facebook, she Learned of a Muralist who had recently painted a couple of small murals on the walls of a restaurant which was located on the outskirts of the Texas Hill Country. She went on and on about the talented painter. My wheels started turning "does The Lucky Horseshoe" need a mural? Lightbulbs started to go off in my mind. "Well duhhhh, of course this sweet ranch needs a mural and I know just the wall for it!"
I immediately got to work on figuring out who this woman was so that I could cast her a vision and see if we could collaborate on ideas and hopefully get on her calendar.
After connecting with Sarah Blankenship through Instagram, (@sarahjblakenship.art) we were able to schedule a phone conference with her. During our call, I shared the love story Chance and I have been writing together for about 35 years (well minus 25! Long story, but click on Hardy's above, to read it!). Along with additional ideas I had for the mural I was envisioning, my hope was to create not only a fun addition to the ranch, but a conversation piece. After a few emails back-and-forth of brainstorming, pictures and ideas, The Lucky Horseshoe's mural soon took on a life of its own. Sarah (who is based out of Georgetown, Texas) then came out to the ranch each day and camped out in the driveway for about a week as she painted our masterpiece.
A lot of Sarah's work is colorful and bright and cheery but we felt that our old 1970s ranchette, turned modern farmhouse, needed in some way, shape or form to give a little, nostalgic nod back to its country roots. And so with the stroke of a brush or two, our mural with an old black and white, vintage vibe, came to life. One quiet, exterior wall on our guest house, soon became a work of art for all friends and family to enjoy.
A little bit about this artist: Sarah is very laid-back, easy to work with and has such a warm spirit. Her résumé of work as a Muralist can be seen on her Instagram page and her website. If you're in the market for transforming a wall or two in your house, at your business or on your property, reach out to Sarah! She's a very gifted artist! Sarahjblankenship.com