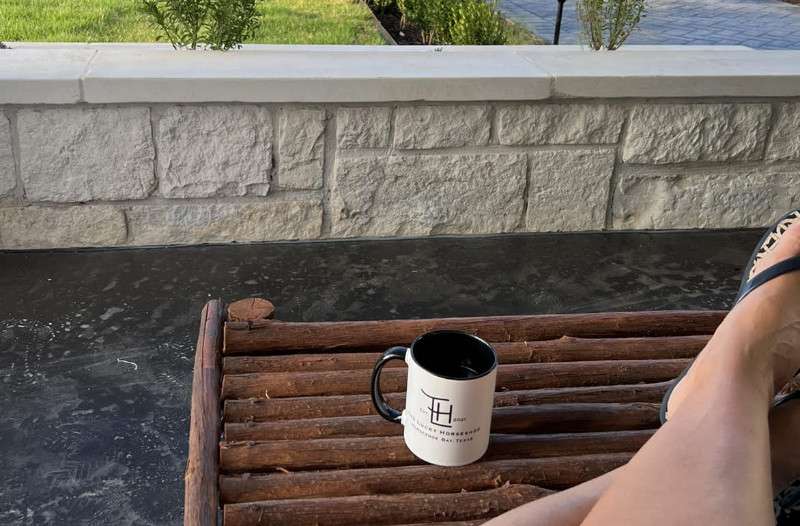 For the past year we have been working on our ranch remodel. I would say it's been a long year but it really hasn't. It has flown by and here we are, at the finish line! My favorite part of the project: Landscaping! This is the icing on the cake… the pretty stuff! This is the part that brings the entire project to LIFE! Our plan included irrigation, lighting and pretty flower beds featuring and a scattering of small ornamental trees. In addition, we brought in four, large, White Oaks, which we placed in the Casita courtyard. We wanted these, somewhat mature trees, to be planted so that they could quickly take root and provide shade. These trees anchor the space, which is home to a giant fire pit. We always envisioned this space host a wonderful place of warmth for friends and family to gather, share stories, laugh loud, maybe cry a little and of course make s'mores!
As I sat in front of the Casita one morning having coffee, it was a bit breezy out- a summertime gift, here in the Texas Hill Country.  I noticed that all the trees began to sway quite a bit, so much so, that I thought these "mature" trees needed some reinforcement! 
As I was watching them dance in the wind, I envisioned a tall post tied next to the trunk of each tree to provide a stable anchor.  I certainly didn't want these beautiful oaks to grow up crooked!  Likewise, those who are mature in their walk with the Lord, shouldn't think for one second that they can make it in life all alone.  Just because you're "mature" and you've been in-step with the Lord for 5, 10, 20 or even 30 years, doesn't mean you have it all figured out. My trees, though just a couple years old, need something to keep them tethered, something to encourage them to stand up-right and grow strong. Otherwise, too much of a breeze could cause them to bend, grow crooked or even fall over. 
Even mature believers can easily get off track; thinking they don't need any reinforcements or accountability to keep them on the straight and narrow. But when there is a lack of accountability, firmly planted alongside us, it's easy to stop maturing or worse- our way of thinking becomes crooked and weak. We compromise. Before you know it, we are swaying in the wind and sin sneaks in. I once heard a pastor say, "sin always takes you further than you wanted to go, it costs you more than you wanted to pay and holds you longer than you ever wanted to stay." Isn't that the truth!? Unfortunately, some bad decisions can be detrimental and life-changing. We must be very cautious and mindful and not allow ourselves to become "lone rangers." If we "self-isolate," it gives the enemy an opportunity to move in and take root in our lives. Rejecting accountability and/or isolation causes us to grow crooked in our thoughts which quickly leads to poor decision making. We all know that bad decisions can and often do, result in a domino effect of consequences.
Over the past couple of years I watched several friends go through divorce. Interestingly, all of these marriages ended, due to adultery. A spouse acquired a crooked way of thinking, bought the lies and fell into the trap. That's what happens when there are no strong anchors of accountability and encouraging reinforcements in our lives. Life is short and I'm pretty sure God wants us to finish well. Sure, we all make mistakes and do stupid things but in the end, we're supposed to learn from our failures and even the failures of those around us. Life is about living with integrity and good character which we should all strive to possess. So even if you are one who is mature in your walk with God, don't believe it is beneath you to surround yourself with strong people who frown upon compromise. Let's embrace the reinforcements around us because they provide not only healthy accountability but the life-giving truth and encouragement we all need in order to live victoriously.